All updates featuring
Rigid Box Tie Device
If there was ever a perfect girl for the Rigid Box Tie Device, it would be the incredible Lizanne from Belgium! This girl is just perfect. Perfect body, perfect measurements, perfect face. And she LOVES bondage! It's true. Every single piece of this Device fits her so well, it looks like it was made for her! A nude Lizanne, standing tall in her heels, locked in this device, so she is vulnerable and helpless. It is the best sight we've had here in the studio for quite some time! And Lizanne can stay in this device for hours, even an entire day, without complaining. She is even available for custom shoots, meet and greets (in this device or in a chastity belt) and studio shoots.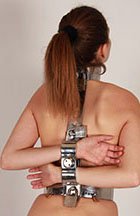 When we introduced our new Rigid Box Tie Device, Yu was not locked in a chastity belt. So a lot of people started wondering if a chastity belt could be worn in combination with this device. The answer is: yes! Of course! Especially when we have a model like the bondage loving Elise Graves, who wanted as much metal locked onto her body as possible! She wants to struggle, feel the unforgiving metal, she wants to be made completely helpless! So we gagged her, and chained her legs to her waist so she couldn't stand up. A lot of locks were needed for this gear, and we just threw all of the keys on the floor so Elise could struggle and try to escape! This is one of the best struggles you have ever seen in metal bondage, for sure!
After a lot of designing, fabricating, and polishing, we came up with a way to make a very rigid metal box tie! MetalBondage.com proudly presents: the Rigid Box Tie Device! This modular device connects the neck to the waist with an adjustable heavy steel plate (for girls of different heights), and has a heavy steel adjustable waist belt. In between, there's a solid heavy box with two small wrist cuffs inside, which will keep the arms in a perfect position. This device is inescapable, as our test model Yu found out. Even with the keys, she couldn't do anything at all. Naked and angry, Yu looks awesome in our new device! The front view is so minimalistic with its clean collar and waist belt! A perfect posture training device!