All updates featuring
Thumb Cuffs
In this picture and video set, Aubrey is in a prison cell, locked in millions of kilos of steel. She does not enjoy this at all. It is very painful and unnecessary. There is so much steel, she can't even move. She is afraid to lie down. Aubrey is locked in a full chastity outfit, including belt, bra, and thigh bands. She is also locked in super heavy SteelBound restraints: a collar, wrist cuffs, ankle cuffs, and elbow cuffs. Two pairs of cuffs are added to each of those heavy steel cuffs: on her ankles, elbows, and even 4 pairs on her wrists. A pair of thumbcuffs makes her set complete. The guard comes and locks a chain to her collar and pulls her out of her cell. She is moved to a wall, where she is restrained even further: Aubrey is chained to the wall by her elbows and ankles, and an X-chain to finish off the position. Poor Aubrey!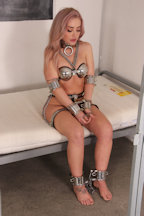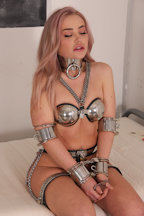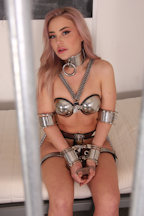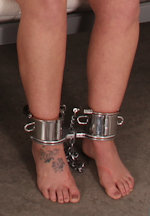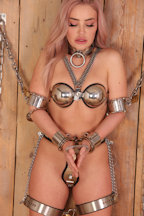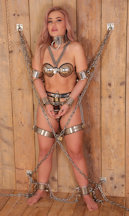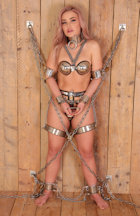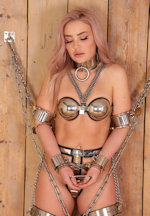 Muriel loves steel bondage so much! She is going back into the dungeon for another challenge, she will be locked in a lot of steel for the afternoon. But even when she is waiting for what is going to happen, one pair of thumbcuffs already changes her breathing. She is almost moaning in anticipation for more heavy metal. Soon, a lot of gear is locked onto our lioness girl. First, her neck is locked in metal stocks and chained to the ceiling. Then a RigidFiddle is added to her neck and wrists. Muriel is getting more and more excited. A spreader bar keeps her legs apart, and finally a chain is locked from her fiddle to the bar so she has sit in an awkward position. But it's awkward for Muriel at all, she's loving it!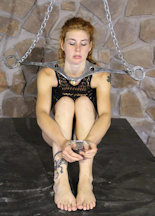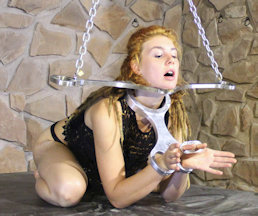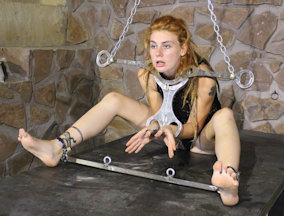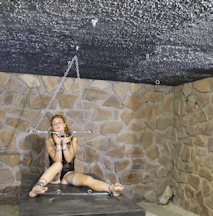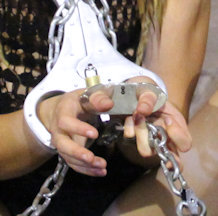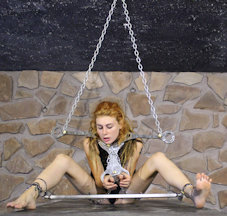 You have probably not seen this before! When Polina was doing her Chastity Deal at www.chastitybabes.com, we noticed something unusual about her. Polina is super flexible and one of the rarest bondage talents we have ever seen! This is only the second girl we ever shot who can do elbow bondage with her PALMS OUT!! This incredible skill does not even seem to take any effort from her. She is so relaxed with her arms twisted in this tight, almost impossible position. We use a Bagno arm screw for the elbows, added butterfly cuffs for upper arms, Irish 8 for her wrists and thumbcuffs to keep her from rotating her wrists back. You have got to see this picture set and video! Don't try this at home!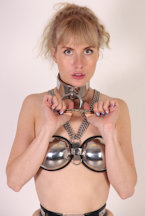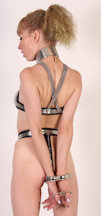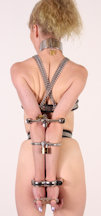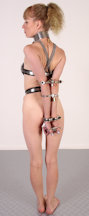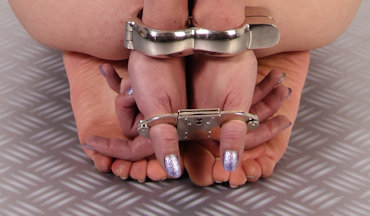 Let's see… a chastity belt, metal posture collar, 15 pairs of handcuffs, 1 pair of elbow cuffs, 1 pair of thumbcuffs, and 6 pairs of ankle cuffs. That ought to slow Christina down a bit. She has troubles even lifting her arms. With all of this metal locked on to her, Christina is now starting to understand what we mean by 'metal bondage'. We finish decorating her with our latest diabolical item: the unique metal 'tape' gag!