All updates featuring
Metall Geyer Waist Cincher
A tall blonde with a tiny waist! Time to get our 58cm waist cincher out of storage. Birdy Dee is definitely the tallest model ever to be locked in this small locking waist belt. It's an amazing fit, restricting her breathing and keeping her posture. But that's not enough! We go all the way over the top here, with heavy collar, wrist cuffs, ankle cuffs, thigh bands, and even nipple clamps. Birdy Dee is locked to a frame, arms and legs spread wide, and all she can do is stand there, on display, nipples hurting, trying to focus on her breathing. Heavy steel bondage!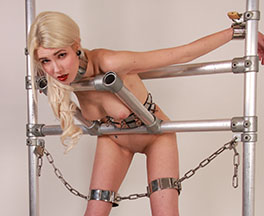 Gorgeous Sylvie is a super tiny girl! That's great, because our double clasp locking waist cincher is also very tiny! We managed to squeeze this nude girl into the broad steel waist cincher and close the clasp locks! Then we locked her heavy steel cuffs to the O-rings on the belt, and used the Connect-A-Model System (TM) to create a rigid elbow cuff spreader! Sylvie can barely move her arms, which is good because we are going to neck cuff her to a pole. A tall pole, so we can change the position of the neck cuff and Sylvie has to kneel or stand, nothing she can do, even though she tries to get herself free! A tiny naked girl versus lots of metal, no chance!
The incredibly hot tiny Asian girl is back! Davon Kim is locked into matching metal gear: wrist, ankles, and collar… and the incredible custom made metal waist cincher. It is small, even for Davon! Locked on with two unforgiving locking clasps on the back, Davon needs to focus on her breathing, it is more rigid than wearing a corset! It makes her very submissive. She even offers us the chain leash that is attached to her collar, and proceeds to lock herself into the tiny dog cage. Who wouldn't love to own a Davon pet?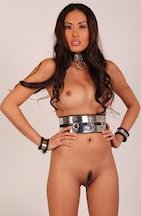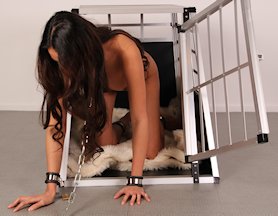 Added January 20, 2013 ---- 101 pictures + 5:42 minutes of video
Melissa is hot, cute, and tiny. Whenever she comes over to try on our stuff, we just want to squeeze her into the smallest bondage items we have. This custom made double locking waist cincher is just the thing for Melissa! When we show it to her, she can not even believe it is supposed to go around her waist. It actually barely fits around her thigh! She keeps commenting on how small the belt is, and after we lock her into it, we can see it is really a super tight fit on her! It does not move at all, it is right below her lower ribs and above her hips. This is a 22 inch cincher, and just leaving it locked on for a while is torture! So yes, we took our time shooting the pictures ;-)