All updates featuring
Nipple Clamps
Chastity belts are so great for training! It isn't really bondage, but since we hold the keys, we can still make the girls do anything we want. Tracy and Nicole were in the belts for a few hours already (we did this first), and they REALLY didn't want to go to the toilet in their belts. So we told them they would stay locked in the chastity belts until they tried nipple clamps to our satisfaction. Now remember, these girls had never seen nipple clamps before, let alone tried them, and these Japanese clover clamps have the nastiest pinch of them all! It was just a matter of how badly they wanted out of their belts… Even though they both have very sensitive nipples, they were real troopers! Anything to get out of chastity! Tracy and Nicole did great, and once they were over the initial pain, they really got into it. They were even tugging each other's clamp chains for fun! Ouch!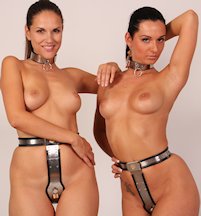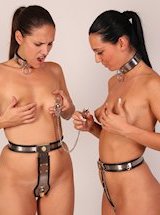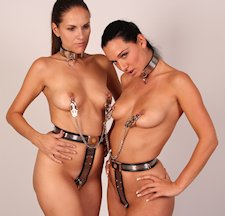 Ariel Anderssen is the most experienced bondage model we have ever locked in steel. A RigidStock TL and a chastity belt are easy for her. She even enjoys it! She could spend hours in a stock! We thought she needed something more, a bit of a challenge perhaps. So we nipple clamped her (she couldn't stop us anyway)! Ariel definitely does not like the Japanese clover clamps, they hurt her sensitive nipples a lot! Then we told her she would have to work out a way to get them off herself. She can not reach far enough to grab the clamps to open them, but clever girl Ariel thinks it is a good idea to use the chastity belt's padlock to pull the clamps off! Well, as you know, these particular clamps only grab harder when pulled… this is a great metal predicament! Enjoy!
See no evil, hear no evil, speak no evil! The cute Asian trio is back! Ting, Maya, and Nancy are locked in tight chastity belts and very heavy collars, ready for their next assignment: three pairs of clover clamps (the ones that really grip and hurt)! These real-life submissives will do anything we tell them to do, so we leave their hands free to nipple clamp themselves and each other. Nancy seemed to have the hardest time, having the most sensitive nipples, but cute little Maya is in the middle so she is an easy torture target for the other two. Uttering loads of high pitched moans, the girls leave the clamps on for longer and longer, as they start to realize that taking them off hurts even more than leaving them on. Possibly one of the greatest sets we have ever shot!
We have Adrienne where we want her: on her knees, cuffed to the metal pipes, in a huge heavy collar, and chastity belted! There is nothing she can do to stop us from nipple clamping her! And that's what we are going to do! Adrienne is very sensitive, so this should be fun. Immediately after the clamps have been applied, she starts sweating and struggling to get them off. You can really see it hurts her a lot, but we are not going to take them off for a while! Enjoy!
Natalia Forrest is facing a huge dilemma. We have her completely naked, locked in very heavy restraints. Her wrists are chained to the back of the extreme 'boxing' belt, and her pretty neck is locked in a big tight metal collar. She just wants to get out of these things. The spoilt British girl is used to having everything her way, and now she is even begging to be released. So we make her a deal: she will be released after she nipple clamps herself, one of her worst fears in the world. Natalia has super sensitive nipples, and the clamps we give her are the worst kind: Japanese clover clamps. Watch Natalia go through her ordeal, leaving her nipples marked after a very painful clamp removal. It may be the last time Natalia has modeled for us…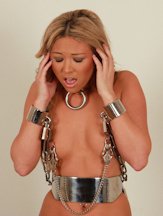 Amanda! Big perfect boobs with nipples that have never been clamped. No wonder you requested this training for this beautiful MetalBondage slave girl. Everyone wants to see Amanda nipple clamped… everyone but one person: Amanda herself. She is not too happy about this, although she was curious. But after feeling the viciousness of these clover clamps (on her finger) she wanted to back out of this shoot. We told her she would not feel these nasty clamps as much if they are left on for a longer period of time. But it seems we forgot to mention that taking them off hurts even more ;-)
Oh, and our custom built heavy steel hobble dress looks so good bolted onto Amanda!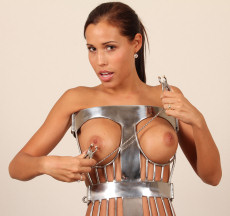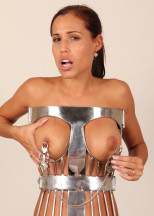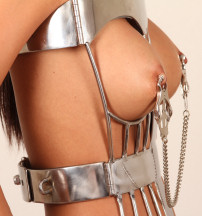 We received a member request: 'Can a model reach her clamped nipples while restrained in the custom SteelBound stocks?'. We can only answer that by trying it! And again, it is the fearless Adrienne who was first in line to take on this challenge. This woman is tough! Still firmly belted, Adrienne is locked into the very heavy stocks. The nipple clamps are applied at the tip of her nipples, where they hurt the most. It hurts a lot, judging from Adrienne's expressions. Now try to get them off :-) Lowering one hand means the other hand goes up, putting a lot of strain on the shoulders. Can she do it?
The second shoot for Mei-Li, and she agreed to be belted from now on. So that's a good start, after her very hard first shoot it even seems simple to her. But when the belt is locked on, Mei-Li is still testing it, it is very tight and she can not get used to it. To take her mind off the belt, we order her to nipple clamp herself. Mei-Li is willing to try it, but she soon finds out that it HURTS like hell!! She is a real trooper though, and she tries and tries again in this very good nipple clamps training update.
Wow, Leyla wants to take two steps at once! We told you she was very eager to be a MetalBondage.com model (see her first update here), so she wanted to get to the chastity belt stage in the second shoot already. And if that is not enough, she was really curious if she could handle nipple clamps. Not the weak sliding pinchy things, but the real deal: clover clamps! We decided to let her test them for herself. Watch as Leyla finds out how much these clamps hurt her huge boobs. Will she be able to keep them on her nipples for a while? Great stuff!
Something about Janna Grace makes us want to gag her really tight. First of all, Janna loves when she starts drooling (she really does!), plus it gives her a really angry expression. A nice comfortable RigidStock ensures Janna will not attack anyone. And to make her even more angry, nipple clamps were added, as requested by so many of you. She may like the bondage, but she really hates the stinging pain of nipple clamps. There is absolutely nothing she can do about it, thanks to the wonderful design of the RigidStock. But even with no way to take off the clamps, or the gag, Janna is still going to try. She has to, because these clamps are hurting her like hell! Good luck Janna!
Blonde and tanned Natalie is a little peculiar, she insists on keeping her panties on, even when she has to wear a chastity belt. It makes her feel less vulnarable. Well, we think that being locked into a Rigidstock and chained to the ceiling is vulnarable enough ;-) Natalie soon finds out that being nipple clamped really hurts, and there is nothing she can do to stop it. But wait: there's one thing that hurts even more… can you guess what it is? Find out by watching this week's great video clip!