Search Results For
"split"
We had quite a few flexible models over the years! And we locked some of them in a full split, which is quite a predicament! Muscles cramp, and it is an exhausting position to maintain. New girl Bree reckoned she could do it. Well, let's see! Locked in a heavy steel waist belt and collar, plus ankle and wrist cuffs of course, Bree did a few warming up exercises before we chained her into a full split, locked to the wall. Legs open as wide as possible, Bree was amazed by how helpless she felt. There was no escape, even with her hands free. Of course, we locked her hands to the wall too, and we left Bree to struggle for a while. Such an impressive skill! Well done Bree!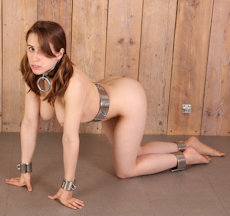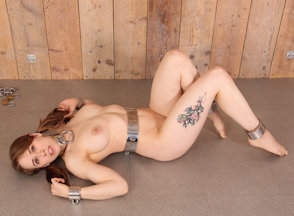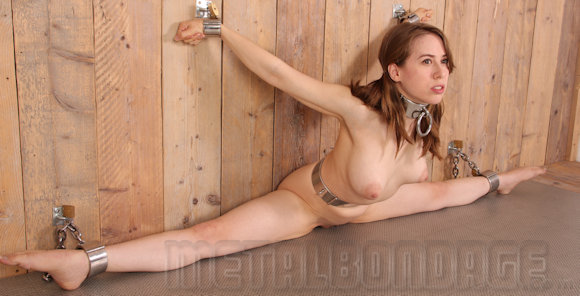 We built a very nice device for Ariel Anderssen. It's her own fault for being so flexible! She will be locked in a split above the floor, her waist and neck attached to a pole. There is no hope of escape for her, she can not even put her feet down. She is stuck with her legs spread to the extreme. Completely defenceless and helpless in metal bondage. A pretty scary experience for Ariel, but she loves bondage, so we are sure she will appreciate it after a while.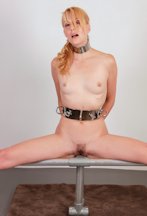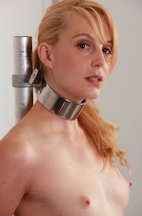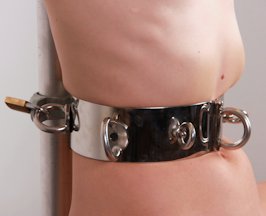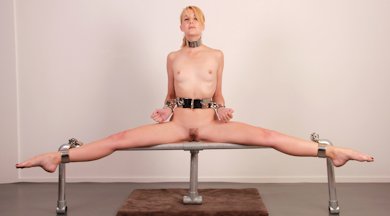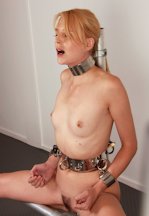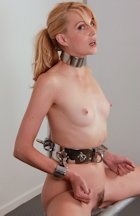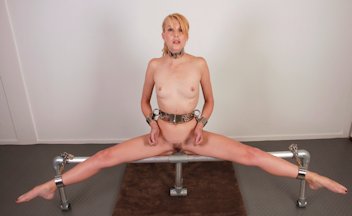 Meet Crystl! She is just pure awesomeness. A beautiful ballet dancer willing to try out some hard metal bondage! Locked in a chastity belt for her first shoot, Crystl is just waiting what will happen to her. Perfect posture, trained shoulders, tiny waist and neck. Her body is just perfection, and wait until you see what she can do with it! She can do a full split, the straightest you have ever seen, and the chastity belt does not even bother her! Crystl can literally sit like this for hours. Which gave us the idea of locking her into this position. Leaving her arms free, there is nothing she can do to escape, the two pipes keep her legs in a perfect split and she is stuck in the most incredible pose ever! Don't miss this one!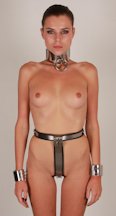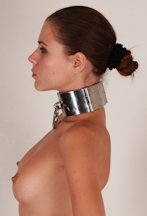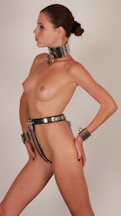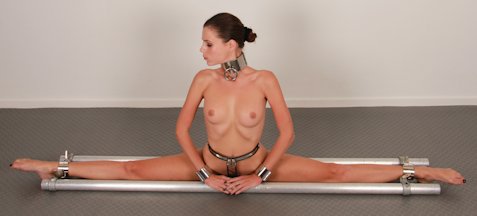 Even we have known Tiffany for years, we did not know she is actually very flexible! But when she told us, she wished she hadn't, because that gave us all kinds of new ideas! We decided to test Tiffany's flexibility by locking her to a low spreader bar in a brutal leg split! Usually that would not have been super difficult for Tiffany, but she was in a VERY tight chastity belt too! She was all spread out, and with her hands locked behind her back, there was no chance to escape this predicament! Beautiful!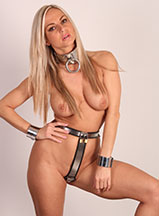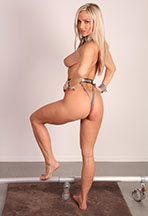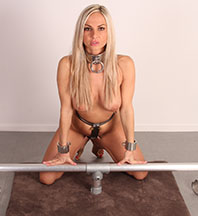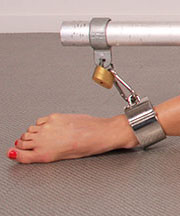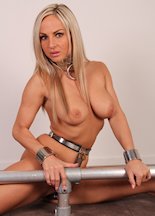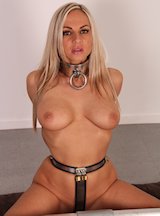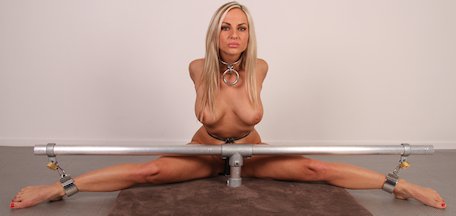 Me and Little Lanta wanted to film this cool trick (handstand drop into split on a dildo), but it turned out to be impossible. Then we decided to film little parts to see if we could make a cool edit to show the trick. Unfortunately, we ran out of time and we didn't film everything we needed. I have been looking at this footage for a while, but I don't think we have enough to make the trick work visually. However, I am sure there are some super experienced and creative editors out there who can use these pieces to make something amazing!
CONTEST: download the pieces of video in the zip and create your own version of Lanta's trick, then send it to me, the best edit will win a 180 DAY MEMBERSHIP to this website!! Non-members: email me to receive the pieces! Time to get creative!!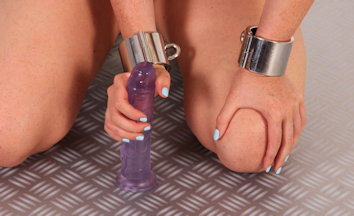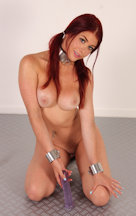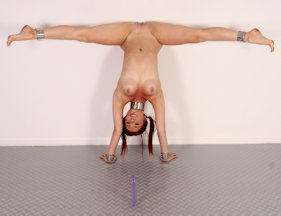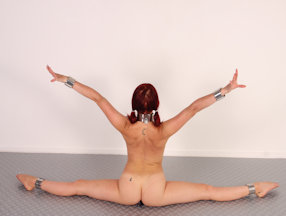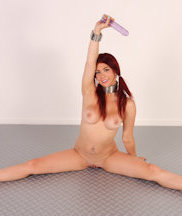 Ella is a submissive ballet dancer, and a very talented one! She has been dancing since she was able to walk. Ella walks on her toes pretty much ALL the time. That's dedication! Strangely enough, Ella is without a Master at this time, but I'm happy to take her in for a while and show her some of my restraints. Remember when I actually chained her to the wall in a full split? Yes, Ella might just be the sub everyone would love to own! Her insane skills mean anything is possible with her! When thinking about my restraints collection and Ella, there's only one custom item that comes to mind: the Ballet Stocks of course! It had to happen, and here it is: Ballet Sub Ella in the Ballet Stocks! Enjoy!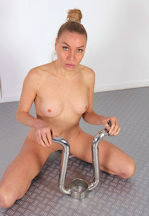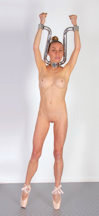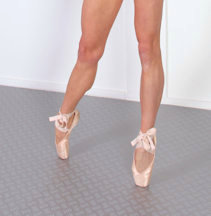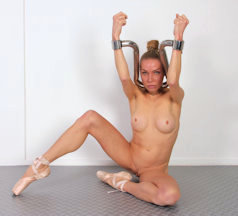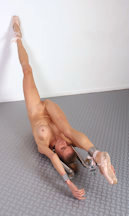 We found this new incredible life style submissive called Ballet Sub Ella! She is every bondage rigger's dream! Ella has been trained for decades to walk on her toes and she always does so. She is incredibly flexible and can be tied and restrained in any position! Imagine a professional ballet dancer gone full time nude bondage slave, that's Ella! Of course, we put her in a heavy steel collar and cuffs, and then we just chained her to the wall in a full split pose! Wouldn't everyone just love to have a wall ornament like Ella? Stay tuned for more Ella soon! The possibilities are just endless!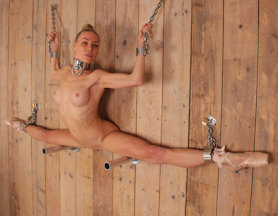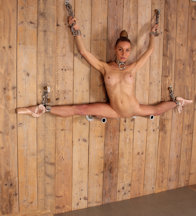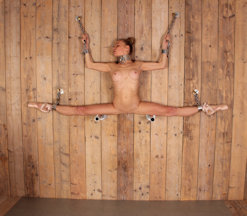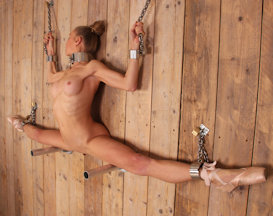 Little Lanta moves around way too much! She is full of energy, even with a collar, wrist cuffs, heavy steel waist belt, and a jewel butt plug, she keeps doing splits and silly things upside down. How do we stop her from moving? The Hogtie Frame seems like the best option. We cuff her wrists to her belt, then her elbows and ankles to the frame. To stop her head from moving, we add a harness muzzle gag and lock it to the frame as well. This is a hard position! Lanta couldn't move much anymore, and it was getting hard to even maintain after a few minutes. She is so tough!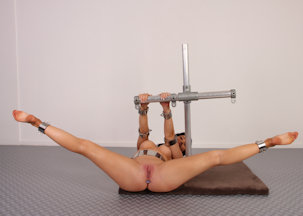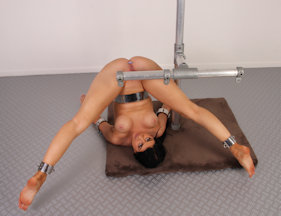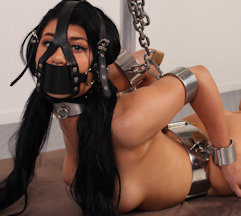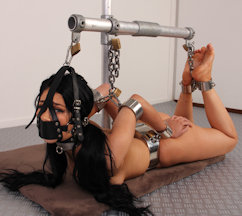 Remember Bree, the amazing flexibile submissive girl from the USA? She is back for more! We love to play with her flexibility. Not only can she do easy full splits, but she also can do crazy back arches. We made a small steel frame to chain her ankles to. Then we bent her around the frame by locking her toe cuffs to her Carrara mask! She supported herself with her arms, creating a beautiful arch with her amazing boobs pointing out straight ahead. We need to work a bit more on this position but it is an amazing first attempt!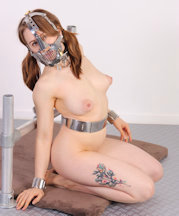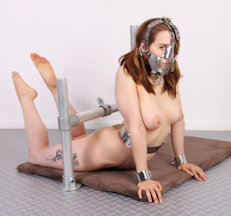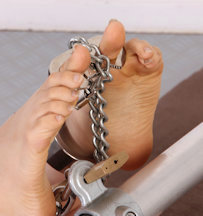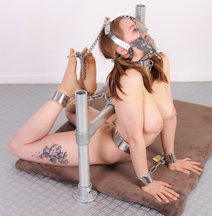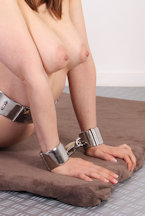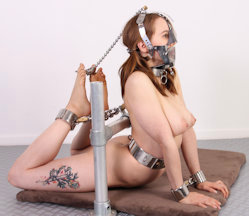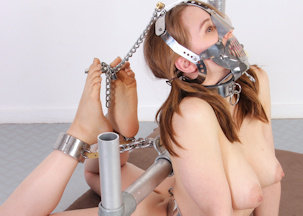 Super flexible ballet dancer Crystl was locked in steel on this site in 2016. She was a bit hesitant to use her flexible skills for fetish photography, but she seemed to like the extreme bondage position we put her in. Locked in a full split, don't try that at home! When Crystl was back at ChastityBabes.com doing a little deal over there, we used that time to get her back in metal bondage (of course). Crystl is awesome! And she was with her very pretty girlfriend Lynn, who was also locked in a chastity belt. Two gorgeous lovers in chastity! We told Lynn to lock her awesome ballet girlfriend in an extreme spreader bar split again. They are so sensual and romantic together, don't miss this update!!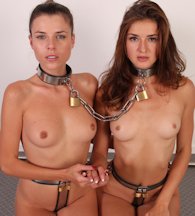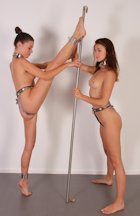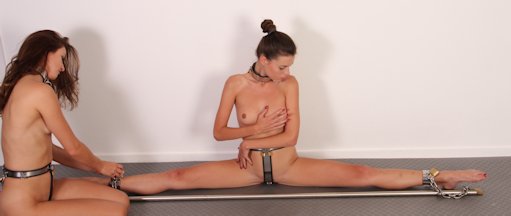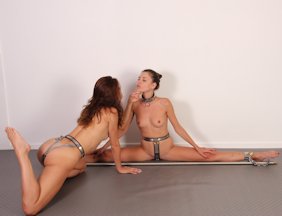 From the moment we locked Lily's legs to this frame, she was already stuck. She would never be able to get off this frame by herself. Locked in full chastity, our favorite gymnast was actually quite comfortable. This is an easy split for her, and she was not sitting on her chastity belt (it was resting between the pipes). So there would be no reason to let her down soon! We cuffed her hands behind the pole with big heavy manacles. And then her neck was rigidly locked to the pole as well. She could not move very much, but we added a ballgag, just in case she wanted to protest this 'flying' metal bondage position! Familiar? Yes, Yu did it too, don't forget to watch that one as well!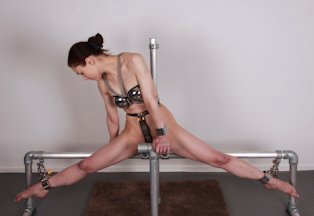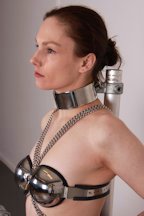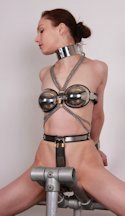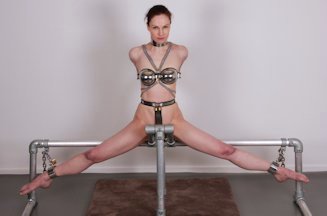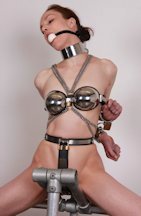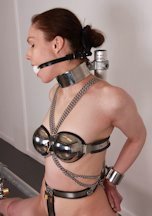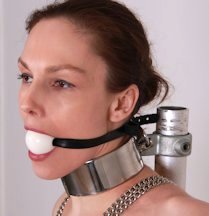 A new installment in our FEATURE series! The lovely Ariel Anderssen is an accomplished ballet dancer (as well as a very kinky bondage model), and she has done many ballet shoots. We asked her to come over in her ballet outfit and perform a little dance for us. "I don't think I can do any full splits today", Ariel said before we started. Well, don't worry about that… we will help you a little! Ariel woke up in heavy chains, collared, and waist belted, with her arms high above her head. Her long legs are pulled all the way into a very extreme full split and chained to the wall. Good exercise Ariel, just stay there for a while, that will stretch those muscles!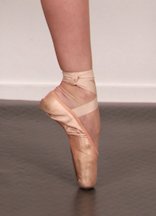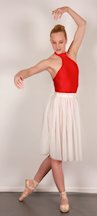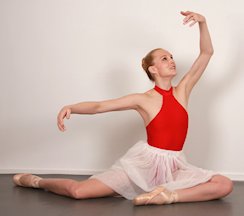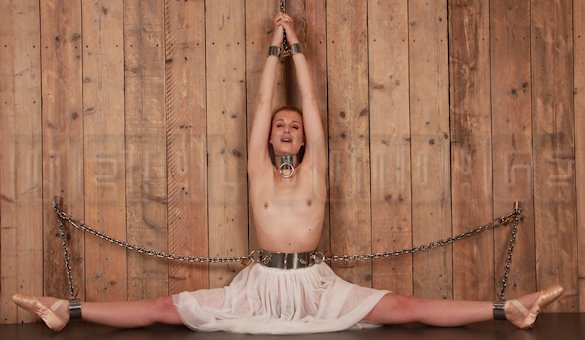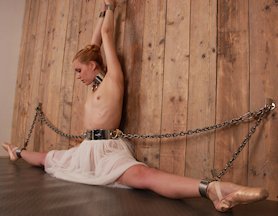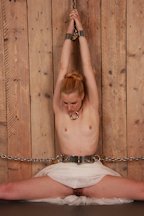 Welcome to a brand new series on MetalBondage.com! We will be doing some requests for fantasy abductions, starring some of our best models in their actual professions, being suddenly put in a heavy metal bondage situation. French model Lily has always been one of our top models, thanks to her unmatched flexibility. Lily is a professional gymnast, so the possiblities are endless! What if her quiet serene gymnast routine was suddenly changed into a horror scenario where she would find herself chained to a wall in an extreme leg split? Her feet aren't even touching the floor! Lily may be stuck in this ultra stretching position for a long time! Can she do it? Poor gymnast girl! Well, it's her own fault for being this flexible.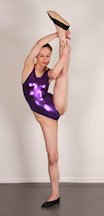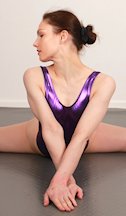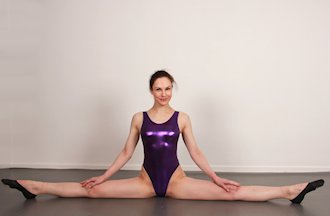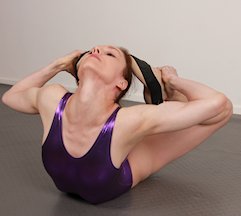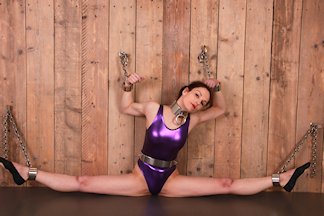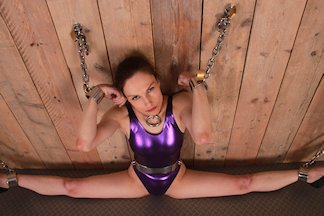 The beautiful Yu from Taiwan recently spent 24 hours at our studios (literally), locked in a chastity belt and a chastity bra for www.chastitybabes.com (go there if you haven't seen Yu getting a little upset about having to sleep in her chastity gear). So I thought we'd just as well shoot a set for this site, since she was already locked in so much metal, walking around in the studio with nothing to do. This has got to be the greatest frame I have built so far! Yu is flying! She is completely off the floor, her ankles lifted up by heavy cuffs and chains. She is in a side split position with her neck rigidly fixed to a pipe with a very tight collar. Even if I didn't padlock her wrists together behind her back, she still would not be able to get off this frame by herself! As demonstrated in the video clip! Don't miss this evil metal showcasing position!