All updates featuring
RigidSpreader Jo-2
Please welcome the Lady Roswell Ivory to MetalBondage.com! She is quite a high class British woman, but don't be fooled by her posture and posh accent, Roswell is a true submissive bdsm player! We make her feel right at home by locking her into the biggest and heaviest collar we could find. Naked, Roswell Ivory is presented with the RigidSpreader and left to figure out how it works. She eventually works it out and pleads us to lock her into it, because it looks like fun. After about 30 minutes, all fun is gone however, and Roswell is behaving rather un-lady-like…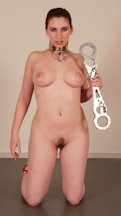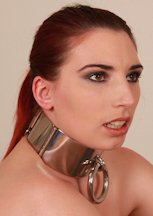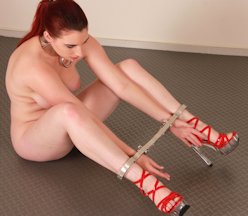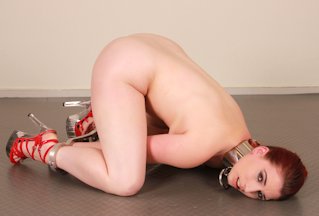 As far as we know, Cory is the only girl on the planet ever to escape a RigidFiddle model '8', all by herself. So we just HAD to invite her for an escape challenge at MetalBondage.com! We use the RigidFiddle model 'oo' on her now, because it is even harder to escape. And we spread her ankles using the RigidSpreader 'Jo-2'. Surely Cory can not escape her tight fiddle, with the padlock underneath, well out of reach? If she can do this, she would be the first girl (again) to escape a RigidFiddle 'oo' and we will have to think of restraining her VERY well next time…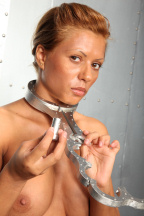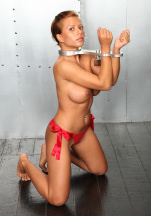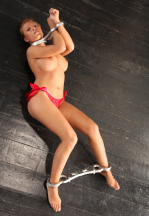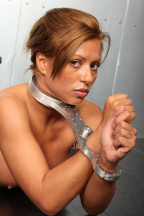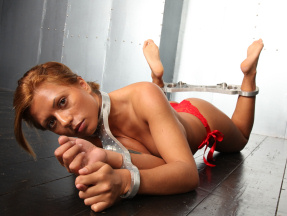 New girl Satin Bloom is smoking hot! Great body and a beautiful face, so we just had to convince her to model for us! Satin is not so sure about all this, however, as you can tell by her expression. It is her first shoot, so she does not have to be belted yet, but we have a good challenge for her: escaping the RigidSpreader by herself. If she can not do it and needs to ask for help, the posture collar with integrated muzzle is not coming off for another hour. Satin thinks she can outsmart us by palming the key after we unlock a padlock for her. But that key does not work on her muzzle collar ;-)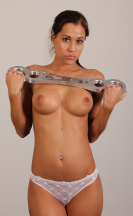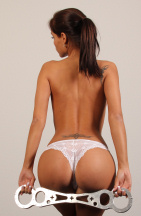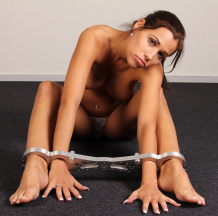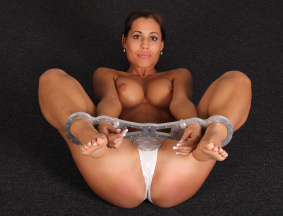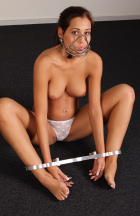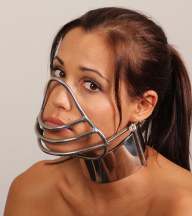 Remember Bella? The girl who is afraid but curious? This time our brave slave girl does some research on our RigidSpreader. And she is doing an incredible job! It may not look like it is hard, but the RigidSpreader puts a girl into a sitting position that does not really work when you are in a rigid chastity belt! Bella does not seem to mind, she keeps rolling over and stretching her legs out in the air. Investigating the RigidSpreader's escape possibilities is not so successful, however…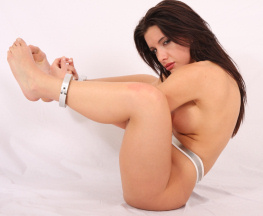 Another new model at MetalBondage.com! The very funny and stunningly beautiful Melissa joins our ranks! Funny? Well, just watch the escape attempt in the video clip, you have never seen such a smile in bondage! Especially when she finds out the RigidFiddle lock is out of reach, a wonderful moment! We are sure we can get this little vixen into a chastity belt, it would look so hot on her, but for her first shoot you will have to enjoy her in RigidCuffs, not a bad thing at all, this beauty should be locked in metal for the rest of her life! It looks so great on her!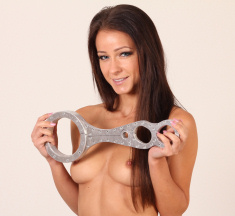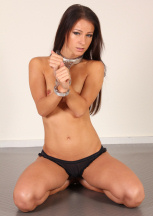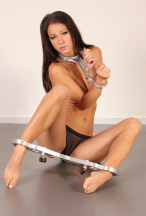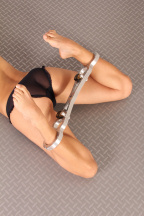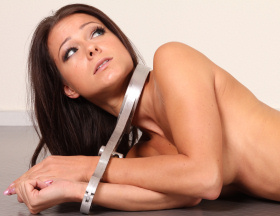 Our blonde slave girl Hailey just keeps coming back for more. We are sure our members don't mind, she is a very popular girl! By now, Hailey is used to being locked in a chastity belt, so we have to think of something more difficult for her. The RigidStock is a very harsh device, especially when you are in a chastity belt, because it makes you sit on the most uncomfortable part of the belt. Most girls try to roll over on their back but not everyone can do that, it really hurts. To make this worse, Hailey can not turn or lift her head, the extreme muzzle posture collar effectively locking her face to her neck. Poor Hailey, metal bound for your enjoyment!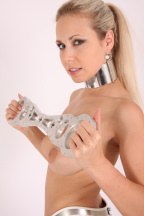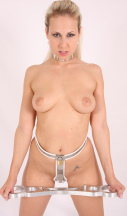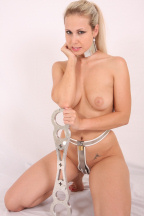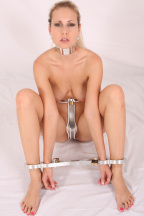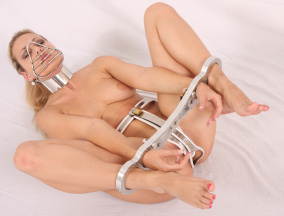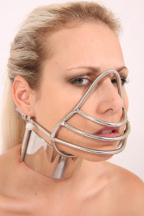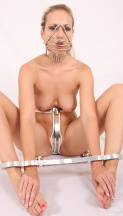 The disadvantage of a RigidFiddle is that it puts a girl's arms in front of her boobs. But the rigid position is nice, and it helps to show off Angela's huge heavy custom made steel belt! Her ankles are locked in a RigidSpreader and she is gagged with a bright red ball! Unlocking the spreader should not be a problem for Angela, although it is not easy to bend over far enough, because of the belt. Angela is really flexible, so she manages to get the key in the lock, but to our amazement, she does not remove the padlocks after unlocking them. Does she not know how they work? She can't ask, so she struggles on…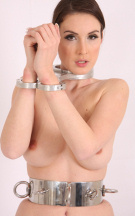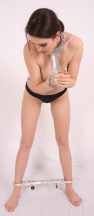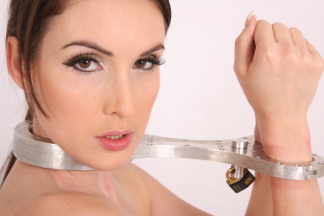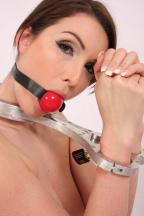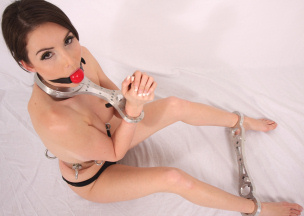 MetalBondage resident pet slave gets a good workout this week. We put her in a RigidStock and a RigidSpreader. She was in those restraints for quite some time, and although it is pretty hard on the shoulders, it was not much of a workout until Vanessa decided to lie down. Getting up in a RigidStock requires very good ab muscles, especially when your ankles are in a spreader. Then we threw her the keys… but only the keys to the spreader, because the RigidStock is inescapable anyway. Even so, unlocking a RigidSpreader while in a RigidStock is also quite a good workout! Vanessa was very tired and sore after this one :)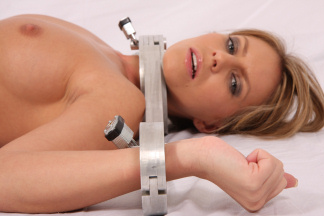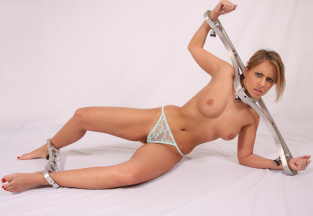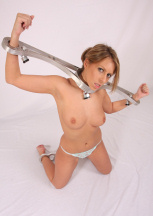 Playing around with our two belted slave girls Ashley and Tracy in RigidCuffs (a RigidStock and a RigidSpreader), we suddenly had a brilliant idea: let's do a Rigid 69! It turned out to be one of the hardest positions we have ever invented. Imagine the belted tanned beauty of Ashley Bulgari lying on her back, her neck in the RigidStock and her legs in the RigidSpreader. Then add the lovely belted Tracy on top, her hands in the RigidSpreader and her ankles in the RigidStock. They could not move an inch, you have to see the video to find out why this position worked so well. Definitely the hottest MetalBondage position so far!!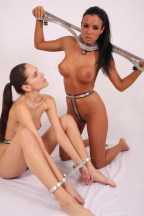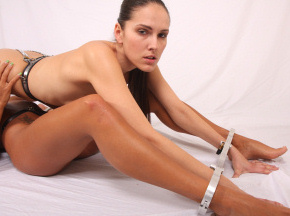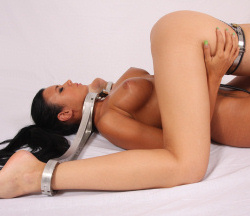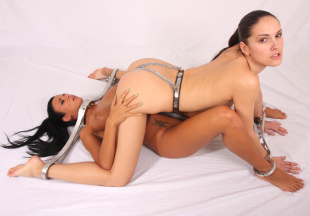 Oh dear, this one is going to be a lot of trouble. New girl Tanya seems to think it is all very funny. She even thinks a RigidFiddle is a cool and snug device for having lots of fun. We show her how we only need three padlocks to make her completely helpless, but Tanya does not seem very bothered. She plays around and investigates, completely undaunted by her limited movement and the rigid devices. It's okay, since this is her first time in metal bondage. But we had a chance to study her, and if you are like us, you will have noticed she has a very nice gag mouth ;-) Next time will not be funny! We promise!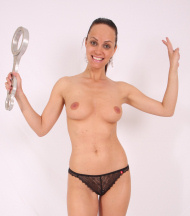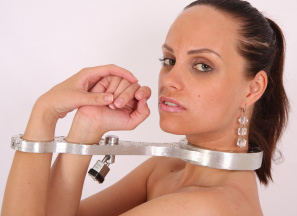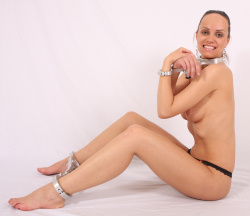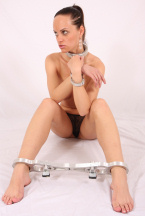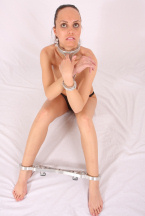 It seems we have neglected to gag our models lately… we were probably too busy with all the new girls and gear we had! Unfortunately for Janna, this time we remembered to use a ballgag – a huge one, which almost none of our models can take! Janna tries, and she manages to get it into her mouth. We quickly locked her into the RigidSpreader before she can take it out again! Janna Grace is definitely one of the upcoming fetish models on the internet. Look how easily she can do the RigidSpreader hogtie, a very hard position, even when there isn't a huge ballgag strapped tightly into your mouth!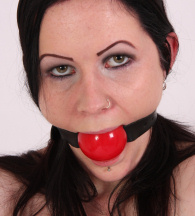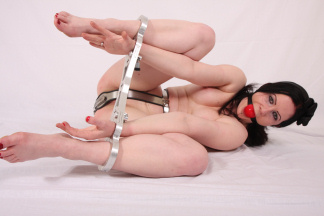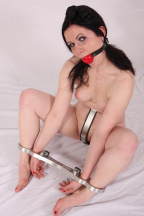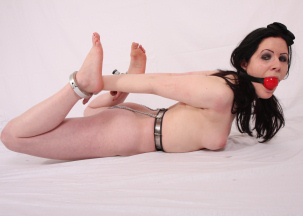 Jenny is still not serious about being a MetalBondage pet slave, she loves fooling around, no matter what we do to her. Oh well, as long as she is not escaping, we don't care. When we showed Jenny our RigidSpreader she immediately grabbed it and wanted to try it out. Don't you just love her enthusiasm? We took the opportunity to try out a new RigidSpreader position: Jenny's arms go under her knees and then into the spreader. This makes her bend over even more :-) For the video, we filmed Jenny lying on her back, unable to get upright, playing with the RigidSpreader. She really seemed to be enjoying this one!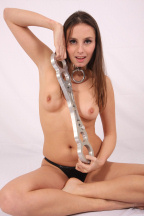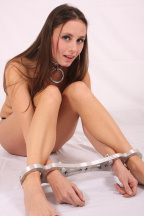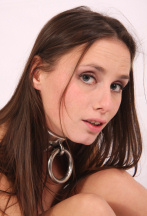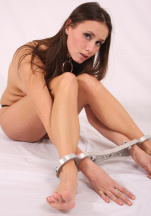 We have another new toy AND we convinced shy girl Deborah to come back and test it for us! Now, there are 3 positions you can do in this RigidSpreader. Sitting down, lying on your back, and on your stomach (a RigidHogtie!!). Not everyone can do the last one, you need to be very flexible and even then the pressure on the wrists and ankles is very painful. To her credit, Deborah managed all three, as you can see in the pictures. For the video, we just wanted to find out if our new spreader is escape proof… did we mention Deborah looks hot in a harness gag?