All updates featuring
Connect-A-Model System
Beautiful tall Sophie in her chain style NeoSteel chastity belt! She was doing some challenges for ChastityBabes.com, so we figured we could lock her in some metal devices to give her something to do! We locked her into the collar, wrist cuffs, and ankle cuffs of the Connect-A-Model (TM) System. The red parts you can see are rubber bushings to make the connections more rigid. Sophie had no clue what was going to happen. We connected her wrists to her neck, and still she did not guess what position she was going to end up in. Only when we connected all 5 points into a stork (or scavenger's daughter) device, Sophie realised that it was not going to be easy to spend any time in this, sitting on the floor in her chastity belt!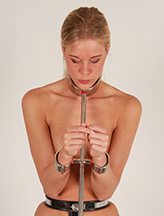 Training Jenni C and Melissa is always hard. Still, there is some progress! When they recently visited me for some shoots, they already assumed they would be locked in chastity belts all the time (they stayed for 4 days, locked in their belts). You can read more about this here on ChastityBabes.com. But I wanted to add something more. A bit of bondage, so they had to cooperate more, which would take their minds off the chastity belts. I connected their necks using the Connect-A-Model System (TM), which is pretty heavy metal bondage. It is also very rigid, meaning they had to move at the same time, and this is especially funny since Melissa is a little shorter than Jenni!! This is how you make friends! They can't get away from each other!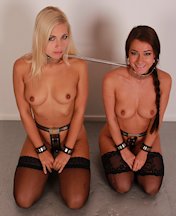 Mischievous Laetitia has been on our website for over 3 years, she is a great pet to test some metal contraptions with! This time she asked us: 'can I bring my friend?', showing us a picture of a hot blonde named Candy. Why, of course! But since this isn't Laetitia's first time, she knew she had to be belted and that meant Candy would be belted on her first appearance! That's quite a punishment for these girls who love to play with each other! And to make things worse, we separate them by a neck spreader bar, cuffing their hands behind their backs. This duo is way too intimate, and they will have to be trained a lot more!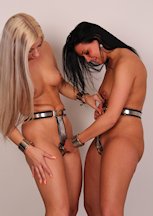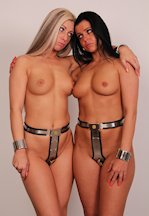 Aaah Vanessa… She always gets to test the best steel bondage devices here at MetalBondage.com! She has been with us over 4 years, and she was belted here for the first time in her life! Vanessa has tried many of our crazy contraptions, and she always regrets it, because we leave her locked in them for a bit longer than she can handle. A little mean, but we have to capture that angry struggle that we like so much! She will always be in a chastity belt, of course, and this time she is testing the versatile Connect-A-Model system. Be sure to check out this regular model: she is a struggler!
We love Natalia Forrest! She is a regular model here at MetalBondage.com, although she doesn't seem to like it very much. Or does she complain only to hide her secret desires? We will never know why she keeps coming back, but it allows us to create the most devious predicaments for this feisty girl! Natalia always looks great in a chastity belt, so there is no chance she will ever appear again without being locked in a tight belt, even though she had some bad experiences with that. This time, we used our modular Connect-A-Model system to create a device that will force Natalia into a metal ball tie. Interestingly enough, her legs are too long to get them out, even though they are not restrained at all. Sitting down, Natalia is forced to hunch into a ball. Lying down, she has to keep her head up because the distance between her collar and knees is very short. Brilliant device! We can think of many more additions and variations to this one! Can you? Please comment!
Look what we made with our Connect-A-Model System™! We found out we had enough pieces and cuffs to make a rigid collar connector (hanging from the ceiling) and two pairs of rigid handcuffs! We were so excited! We guess that our super cute young bondage girlfriends Nelly and Little Caprice weren't as excited. But we had to separate them somehow, because they were trying to get their chastity belts off, and we don't allow that. After a good while of precarious balancing on their toes, we decided to let them try to escape! One pair of cuffs requires a special tool that we placed on the floor. Will they work out how to free each other without getting choked? Don't miss this intense challenge! It's one of our best… and it's Little Caprice and Nelly!
We have some of the most creative members! We received a suggestion to build an extremely long fiddle that would stretch a girl's arms all the way out. Many thanks for that great idea! Not from Natalia though, she isn't very happy that all the new ideas seeem to get tested on her. The truth is, she was just hanging around the studio (yes, in her chastity belt, for another website), so we grabbed her and our custom Connect-A-Model-System to try this! A girl and this modular bondage system is really all you need to have fun, the best toys in the world! It turned out to be quite harsh, because she has to keep her arms completely straight, any bending of the elbows and she is choking herself with the collar. Let's see if Natalia can escape from this!
We love using our Connect-A-Model restraints system! It consists of little metal bars, collars, wrist cuffs, and ankle cuffs, so anything is possible! When we connected two models by a collar spreader bar last time (the wonderful Claudia and Nelly), some of you felt the bar was a little too long. They could not kiss each other, but if the bar was just a little bit shorter, they still could not kiss and it would be even more frustrating! So we try that today. Best friends Tracy and Nicole are soooo close, yet so far. They will have to escape their collars before they can kiss. And they will have to escape their wrist cuffs before that. And their chastity belts? No way, they stay firmly locked on, we never give keys to chastity belts in an escape challenge. Ever.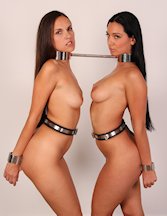 We love to use this neck spreader on two close friends! Why? Well, as we have seen before, chastity belts aren't enough to stop intimate things from happening, girls still have mouths (and tongues!) they can use. Gagging them is a good option, but this solution is way more evil! A rigid neck spreader with two heavy locking collars brings kissing sooooo close yet so far away. Moreover, they have to cooperate on every move. If one wants to sit down, the other has to sit down too. Claudia and Nelly have very slender necks, they can even turn in their collars, but that only makes things more complicated when you are cuffed together ;-)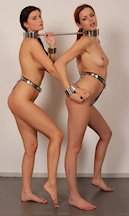 So what if we used our custom Connect-A-Model system to connect two collars? A simple and brilliant plan evolves into a very crazy shoot with two of our top models: Ashley Bulgari and Tiffany. Locked into tight waist bands and cuffed behind their backs, these girls are the first to experience a rigidly connected collar, and straight away they face a lot of problems. Ashley is slightly taller so she is pulling Tiffany up by the neck. They decide to kneel down, but they have to coordinate this very well or they will hurt each other. Soon, these girlfriends start to talk about their immediate future: what if they have to go to the toilet? Would they be able to drive a car? Have sex? They say it feels like being two snakes locked together, but as they find out they can still rub their boobs together, they are still enjoying themselves a lot! Funny stuff!
Pretty little miss Melissa seemed like a perfect victim to further test our modular Connect-A-Model system. She is now tightly belted, so she is on her way to become a good MetalBondage slave girl. Melissa is a natural submissive (we call her 'Submissa'), she loves being told what to do. So we created a kind of stock out of our modular bars and cuffs and made her a short ankle spreader. This Connect-A-Model system reminds us of toys we used to have, only now we get to play with metal restraints and the most beautiful girls on the planet! It turns out Melissa needs some more training, as she tries to escape the devices we built for her, but okay… that is fun to watch!
Glamour babe Lizzie Ryan is well known for her perfectness. Perfect ass, perfect boobs, angelic face, just one hot package! Can you believe she is on MetalBondage.com? You will not see her on other fetish websites, so how did we do it? We just make things intriguing. After her first shoot, we told her she would have to wear a chastity belt if she wanted to come back for more. And here she is, in our white lined belt! We used our custom Connect-A-Model system to build a nice and elegant stock and Lizzie is on display: she can not hide her boobs and ass, all she can do is squirm about uncomfortably, just the way we like it!
The lovely Ariel returned to our studio for another shoot, and she went straight for the white chastity belt! It was locked on before we knew it. How's that for training? :) Today, we will show you more of our custom Connect-A-Model metal bondage system. We tried building a replica of a medieval classic: the stork (or scavenger's daughter). Locking it on Ariel was quite a job, but in the end she was fully restrained and unable to move an inch. The forced sitting position was causing some discomfort because of her chastity belt, but she was a real trooper. It was a perfect creation, except for one little flaw… find out more about Ariel's fascination by watching the video!
Poor Hailey. Our faithful blonde pet slave always seems to be the first one to test our new stuff. This week Hailey demonstrates our brand new Connect-A-Model™ metal bondage system. It consists of wrist cuffs, ankle cuffs, collars, spreader bars, cross bars, loops, and many other components. You can recognize this system by its red connectors. This system allows us to put restraints and bars together in endless configurations! We made Hailey a nice fiddle and a spreader bar for her legs. We love this new stuff, it's the ultimate adult toy, playing with metal and models… We will explain and show more about this system very soon! Stay tuned!!