All updates featuring
Ballgag – Metal Strap
The metal corset we used on Natalia Forrest is such a great piece, we had to use it again! And who better to lock into an underbust corset than the spectacular Katie Thornton! This tight big metal corset squeezed her figure perfectly, accentuating her hips and boobs even more! It's always fun to play around with Katie, because she gets so frustrated in metal bondage. The Iron Crown is a great tool for keeping her boobs exposed and vulnerable, but the best way to frustrate Katie is to gag her with a metal ballgag with a little BELL on it! It annoyed her a lot, but there was nothing she could do!
Added August 24, 2014 ---- 116 pictures + 4:39 minutes of video
Still locked in her OWN chastity belt by the deal she made with the visitors of ChastityBabes.com, we needed to get Amarantha's mind off her frustrating predicament. What better way than to put this bondage loving girl into an even more challenging predicament! We couldn't take off the chastity belt, of course, but we can certainly ADD to it! After locking some extreme ballet heels onto her, she complained: 'these are too thin, I can't walk in these!'. Well, she didn't need to. We had the doggy style position trainer in mind for her! Added some nipple clamps and a metal ballgag too, and it worked! She totally forgot about her chastity belt for a while!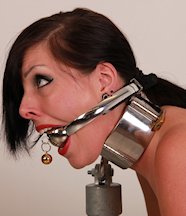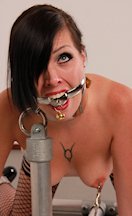 Added June 1, 2014 ---- 92 pictures + 4:14 minutes of video
One of the toughest bondage models in the world, Elise Graves, visited us to try our custom metal gear! She loves heavy metal bondage so much! She even made a list of things she wanted to try, and she seemed to want as much metal as possible to be totally limited in her movements. Well, needless to say we locked her into a chastity belt. That's just a basic thing over here. Then we added the Upper Body Harness to the front (locked in place by that heavy collar), and squeezed her arms into the Steel Armbinder! These 2 pieces were held together by a chain, making this a very rigid upper bondage steel bondage predicament. It was so strict that Elise could not get up anymore once she had fallen over. She was stuck! And that's exactly what she came her for!
Added November 25, 2012 ---- 128 pictures + 4:08 minutes of video
Nicole is back for some more metal fun! This time we will not make it so easy on her, because she was enjoying herself way too much in that fiddle! Of course, our chastity addict is locked into a super tight chastity belt again. Heavy ankle and wrist cuffs are weighing her limbs down and the incredible 'Giraffe collar' is a real torture in itself to wear. We use pivoting spreader bars to attach her arms to her collar, and to spread her ankles apart. Nicole is totally helpless, with very limited movement. As a finishing touch we gag her using a chrome ballgag with a little annoying bell! Let's see if Nicole still enjoys metal after 90 minutes in this!
Tough Adrienne can handle anything, one of our first models to be perfectly trained getting used to metal bondage. Tightly chastity belted, Adrienne is not afraid of the Iron Crown that will put her hands in a very comprimising position, even if the collar is very tight (we call that a perfect fit). But what she doesn't know is that we have a special thing lined up for her: it is a full metal ballgag! Adrienne did not like this thing one bit, especially because of the little bell that is attached to it. Adrienne can't help to jingle around, the little bell annoying her immensely, with nothing she can do about it. Fun to watch!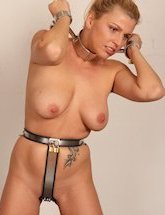 Coffee anyone? :-) Most of you seem to agree that the beautiful Yvette needs some more training. And you are right, she is too cheerful and shows lack of respect. We lock her in to a special tall collar with two front attachment points and chain a metal serving tray to her belly. The heavy locking collar will hold up this tray, and as long as Yvette stays perfectly straight, she will hopefully not drop the coffee cups. We lock her hands behind her back and shut her up with a chrome strap ballgag. Now Yvette will fulfill a number of task, like crouching down, standing up, walking and serving coffee. Let's hope she does not lose her concentration!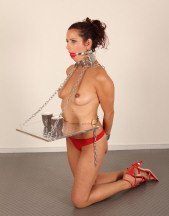 Added September 25, 2011 ---- 83 pictures + 3:46 minutes of video
Remember this tiny but very agressive lady from Japan? Time to teach her some submissiveness! Let's make her kneel by clamping her wrists to a very low piece of steel pipe! The angle of her forearms make it impossible for Miu to get up, but we attach her little collar to the bar anyway to be absolutely sure she will stay in this humble position. And to prevent her from swearing and pleading again, we gag her tightly in a chrome strap ballgag! Now that's better! Moan all you want!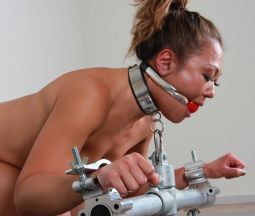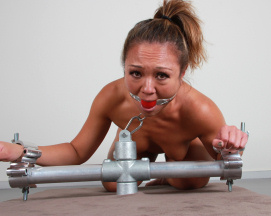 Please allow us to introduce Leyla Gold! This blue-eyed beauty has been so impatient about posing for MetalBondage.com, and she can be quite insisting! In this update, we play a little trick on this unsuspecting new pet slave. We put her in our custom steel restraints, covering all important bondage areas: wrists, ankles, neck, and waist. We lock her ankles together, and her wrists to the back of her waist belt. Then we gag her tightly with a chrome strap ballgag. We leave a tool on the floor next to her, telling her to try to escape. Little does she know the tool only works on her wrist and ankle cuffs. It's fun to see the frustration when she discovers she will only escape half the gear!
Janna is a kinky and wild girl! So we decided to lock some really tight gear onto her pretty body. The super tight waist cincher and a drool inducing chrome gag were just the right things for Janna. We couldn't leave her hands unrestrained of course, otherwise she would be out of the gag in no time! Our very heavy stock provided the right level of helplessness. Janna did not like the belt, but now there was nothing she could do about it. She did manage to break our gag (don't worry we have reinforced it since), which actually makes a very impressive video you will have to see!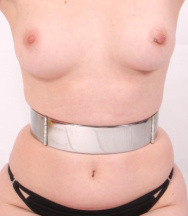 Meet our new model Angela: perfect body, perfect skin, sultry eyes… a real classy woman! After we lock some of our (equally classy) metal gear on Angela, we suddenly have converted this elegant girl into a MB pet slave. We love girls in metal (obviously), and seeing them in uncomfortable positions. So we attach Angela's thick metal collar and her wrists to our slave cross. She does not seem to happy about it, as it's very hard for her to find a comfortable pose. Add a shiny chrome strap ball gag to her beautiful face and she is now officially one of our girls! Welcome, Angela!
Romy is back for some more training. We put her in the chastity belt again, since it is such a perfect fit! Like it was made for her! Maybe we should just let her keep it (while we keep the keys). We handcuff her wrists to the belt's D-rings, shackle and collar her. A nice chain harness and chrome strap ball gag complete today's outfit. Let's see if Romy is more obedient than last time. Or will she still struggle?
Added December 6, 2009 ---- 68 pictures + 3:19 minutes of video
We belted Romy!! And she didn't like it! She started testing the chastity belt with her bare hands, so we had to keep her hands up and away from it. A RigidStock was an effective solution. Notice how the RigidStock fits Romy perfectly. No extra space at the wrists or neck! And what about our new home made line of chrome strap ballgags!! This is metal bondage at its finest!
Added June 7, 2009 ---- 43 pictures + 3:38 minutes of video
The picture set shows Lex and Kim locked in very heavy RigidStocks. In the video, Carly takes advantage of the situation by playing with Kim, gagging and tickling her powerless victim.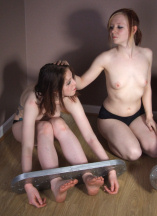 Natalie struggling in metal ballgag and chain bondage. Her wrists are positioned slightly behind her, which gives her a very nice posture.