All updates featuring
Natalia Forrest
Since Natalia Forrest loves pole dancing so much, we decided to let her try our pole! It's a little different, with attachment points for an ankle spreader, wrist spreader, and Natalia's steel waist belt. A little different than the one we did with Little Caprice, but almost the same. We raise the crotch bar up to the point where she really can not move anymore. Her legs are stretched, and she can not move her feet, because of the high heels and the spreader bar. It's hard to maintain balance, but don't worry, she can not fall. Obviously, like with all bondage, Natalia Forrest does not like it and she starts complaining almost immediately. That's our girl! We love you too!
Wow, it has been a long time since we featured our Posture Trainer! Because it is such a heavy device (almost 10 kilograms), it is very tough to be locked in it! Very tough! So we found our most reluctant model ever and tried it on her to get the best reaction!! Natalia Forrest is perfect for this! She always knows how to express her feelings very well, and she is not feeling very comfortable, to say the least!! This version of the device is even heavier and tighter, since we added the chastity belt module to it! Natalia can barely move! Even so, this is not the heaviest or toughest version of this device. We could always add the solid collar spikes, which would make this device weigh over 11 kilos!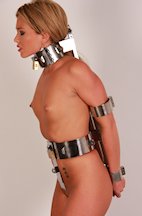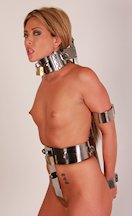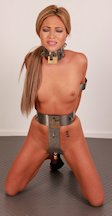 Natalia Forrest is such a drama queen! She is one of our favorite models to chain up, because she just loves to complain about her predicaments! Most of the time, when she visits us, she is locked into her tight chastity belt, so she can not touch herself. This makes Natalia even more frustrated, which is always great to watch! Today, we lock her into a very extreme pose, the dreaded strappado! Maybe we have hoisted her arms a bit too high, but you never know with Natalia, she would complain anyway. She can't take off her heels though, that would really hurt her shoulders too much. Nice predicament complaining!!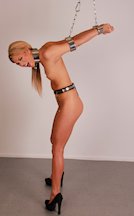 For years, we have been hearing rumours about a way to restrain a girl using only 1 steel bar!! So we finally decided to build this device, to see if it is true that a girl can not escape this diabolical contraption. We needed a large metal dildo on an adjustable pole, and a girl in high heels. Natalia Forrest happened to be hanging around our studio, so we grabbed her to test this new device. She didn't believe that it would hold her in place, and neither did we. But amazingly, Natalia was unable to escape from the One Bar Prison! She couldn't get off it. Wearing high heels meant that she was already on her toes, and the dildo was in too deep. Her hands were cuffed behind her back to prevent her from reaching the pole's adjuster. We left a camera running and sneaked into the other room. Her reaction was priceless! It is true! One bar can hold a girl!
Of course, we just had to build our own Scold's Bridle, MetalBondage style!! This brank is a face hugging, tight, adjustable piece of art, inspired by some of the greatest examples of bondage headgear. And who better to test it on than our lovely but reluctant test model Natalia Forrest!! This device is extreme. It has a large metal lip on the inside that keeps Natalia's tongue down. A lip under her chin makes sure she can not open her mouth very far. A little moaning is all she can produce in protest. To keep her mind off this tight contraption, we challenge her to open her RigidSpreader, so we can see her move around in this metal face mask! What do you think?
Today, we proudly introduce our new heavy chastity belt! This custom built unique piece of metal bondage gear has many features, like: tight fitting super broad waist band, 5 attachment points (3 in the back, and 2 in the front, anal opening, lockable hinged vaginal slot opening, and a high security block padlock. Bolt cutters are useless here. Lose the key and you are in it for life! Who better to test new things on than our very own reluctant bondage test model: the gorgeous Natalia Forrest from England! Natalia doesn't like heavy things, and she had enough of chastity belts, so she is perfect! We tell her to lock herself into the tight belt, and she does, although not without complaining. To tease her a little more, we give her the key to the little secondary shield padlock, which opens the vaginal slot that isn't even big enough to put a finger through! Let's keep her in this for a while!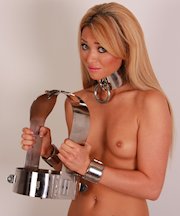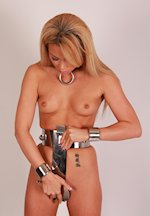 We love Natalia Forrest! She is a regular model here at MetalBondage.com, although she doesn't seem to like it very much. Or does she complain only to hide her secret desires? We will never know why she keeps coming back, but it allows us to create the most devious predicaments for this feisty girl! Natalia always looks great in a chastity belt, so there is no chance she will ever appear again without being locked in a tight belt, even though she had some bad experiences with that. This time, we used our modular Connect-A-Model system to create a device that will force Natalia into a metal ball tie. Interestingly enough, her legs are too long to get them out, even though they are not restrained at all. Sitting down, Natalia is forced to hunch into a ball. Lying down, she has to keep her head up because the distance between her collar and knees is very short. Brilliant device! We can think of many more additions and variations to this one! Can you? Please comment!
We only tried our custom upper body harness once, so it was about time to test it a little more, with our favorite reluctant test subject Natalia Forrest! The metal brace padlocks onto one of our heavy metal collars, and strangely enough the back of the device is completely open! Unlike last time, we crossed the model's arms behind her back, making it one of the most insanely tight metal bondage devices we have! It is like a reverse metal straitjacket, only a lot less forgiving. Natalia could not move her arms at all, her upper body was completely immobilised. We felt so confident we even tossed her the keys! Natalia, as usual, could not really appreciate this kind of humor and she kept protesting and complaining all through the shoot. Don't you just love her? :)
We have some of the most creative members! We received a suggestion to build an extremely long fiddle that would stretch a girl's arms all the way out. Many thanks for that great idea! Not from Natalia though, she isn't very happy that all the new ideas seeem to get tested on her. The truth is, she was just hanging around the studio (yes, in her chastity belt, for another website), so we grabbed her and our custom Connect-A-Model-System to try this! A girl and this modular bondage system is really all you need to have fun, the best toys in the world! It turned out to be quite harsh, because she has to keep her arms completely straight, any bending of the elbows and she is choking herself with the collar. Let's see if Natalia can escape from this!
Some girls you just want to keep! Especially because they are not the type that want to be kept. Posh girl Natalia Forrest is locked into a tight chastity belt and collar. She is on a long leash, and she has been told she will be free (of the chastity belt and collar) if she obeys and locks herself into a very small dog cage. There is barely any room for Natalia to move around, but she manages to get herself in and lock the door. Of course, we did not tell her how long she would have to be in there… sleep well Natalia! And don't play with yourself ;-)
Natalia Forrest needs so much training… she is a spoiled English girl, complaining about even the easiest bondage. Granted, this time we made things a little hard for her. She is locked into the very heavy solid chastity belt, a big cold chain running down her ass. It is very tight on her. The giraffe collar might be a bit too tall for her, but we lock it on anyway. Natalia complains about not being able to breathe, she wants out, and she simply does not stop screaming. We have a very simply solution for that. It is called a ring gag. It worked, and it is a great way to get a good look at Natalia's heavy gold double tongue piercing ;-)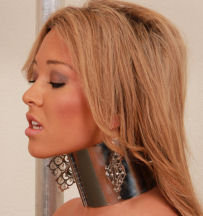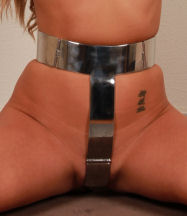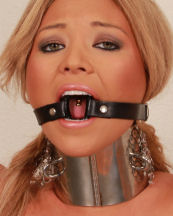 Natalia Forrest is facing a huge dilemma. We have her completely naked, locked in very heavy restraints. Her wrists are chained to the back of the extreme 'boxing' belt, and her pretty neck is locked in a big tight metal collar. She just wants to get out of these things. The spoilt British girl is used to having everything her way, and now she is even begging to be released. So we make her a deal: she will be released after she nipple clamps herself, one of her worst fears in the world. Natalia has super sensitive nipples, and the clamps we give her are the worst kind: Japanese clover clamps. Watch Natalia go through her ordeal, leaving her nipples marked after a very painful clamp removal. It may be the last time Natalia has modeled for us…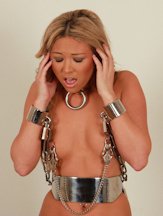 Natalia returns for the second time, and she knows she will be belted for this one. No problem for her, she was also belted on ChastityBabes.com and she is starting to get used to it. Still, her chastity belt is tight, and her hands go to the padlocks immediately. To prevent her from touching her belt, we decide to lock her into the very heavy metal stocks! These custom built stocks are very tight on Natalia's neck and wrists! We even give her the keys, but escape is impossible, even more so because we made sure the locks are on the backside this time. Natalia lies down on the floor to take the weight off her collar bones, but soon she realises it will take a lot of muscle power to get up again… can she do it? And then what?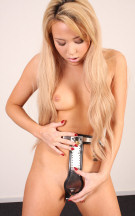 6 point, meaning both wrists, both ankles, neck, and waist. A full restraint set for this bondage loving girl from the UK! Natalia Forrest is joining MetalBondage.com, agreeing to take bondage a step further every time she will shoot! For her first time, we keep things fairly simple, but very heavy. The combined restraints are weighing her down, with her wrists locked to her waist and her ankles spread by a nice metal bar. We did not lock any of the restraints, so we can challenge Natalia to escape… and she almost made it… Next time she won't be so lucky!